We are a group of people who love to paddle and surf on a SUP board. We paddle almost all year round, and in the summer season sometimes several times a day. We believe that there is no better thing that can happen to an adult in clothes (but not only) than a board, good wave and some sun…
Our SUP BASE "Orłowo by the beach" is the first  school in Poland accredited by the Academy of Surfing Instructors – ASI (see  link ). Although there are several hundred ASI schools in the world, we are still, not only,  the only ASI school in Poland, but also in the entire Baltic Sea basin – see the map . 
In our school, all classes and courses on paddling and surfing on a SUP board are conducted by certified ASI instructors, according to proven and effective methodology.
The water reservoir in Gdynia-Orłowo, where we paddle and surf,  was created by nature and thanks to that  it is one of the best and most beautiful in the world, it is ideal for surfing on a SUP board. 
Gentle descent to the shore and to the water, a sandy beach, a bottom without stones, a coastal green forest belt, you and the board on the wave… what more can one say… you have to experience it to understand it! Come and join us on the board!
Watch a short film about our SUP Base - Orłowo by the beach!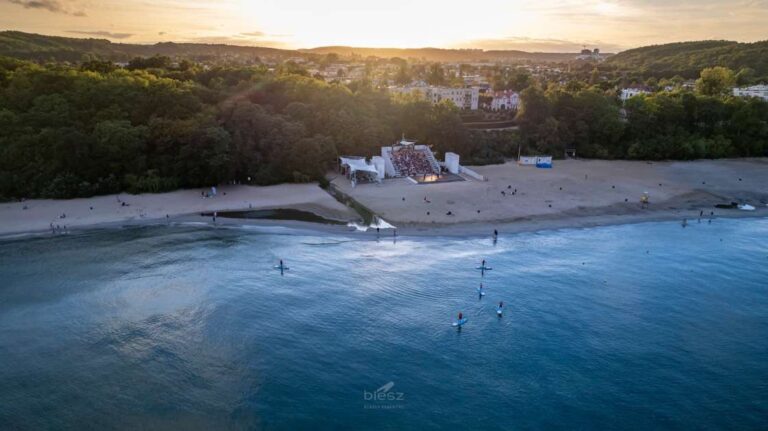 First of all, if you can't swim on a SUP board yet, we will teach you everything according to the Academy of Surfing Instructors (ASI) methodology. If you can already paddle on a SUP board and just want to improve your technique, then you've come to the right place, our ASI-certified and experienced instructors are waiting for you! We sail on the best equipment and we have everything you need for rent: wet and dry wetsuits, lifejackets, hoods, boots, paddles, fins and boards… lots of boards… for everything! Just come, leave the rest to us!
PADDLE AND SURF WITH US
ON A SUP BOARD
TRAIN AND RENT IN OUR SUP BASE!
We have the appropriate knowledge in conducting training, the methodology of the Academy of Surfing Instructors (ASI), certified by ASI, experienced instructors, attractive prices, the best quality SUP boards and equipment. We know the water we sail on well. We will demonstrate and teach you everything. See you on the water in Orłowo!